Another item was checked on my site checklist when my college friends and I went to
camiguin
. one down! Ü and it was such a cool experience... camiguin, indeed is beautiful!
bev hired frank (and his jeep) to tour us around. thanks bev! it was a lot more convenient since our group was really big, plus frank not only knew how to drive, he also knew the best spots and the practical sequence of site visits. he must've done it a lot of times to tourists!Ü
------------
we were really starving and so for a start, we had lunch at
J&A fish pen
. while my friends didn't find it extraordinary, I loved its ambience, as the whole place is surrounded by its blue-green pond where they breed their fresh water fishes.
I also loved its version of
sinuglaw
, or the combination of sinugbang liempo (grilled liempo) and kinilaw. it had a lil essence of wild lemon, which we call
balibandon
in
Tandag
. nakakaalis umay. sinuglaw satisfied my bisaya taste! 2 thumbs up!!!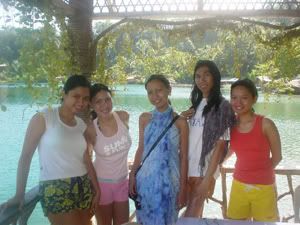 J&A fishpen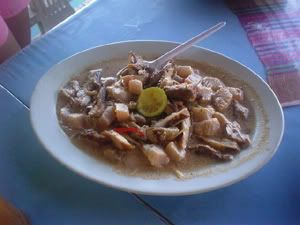 sinuglaw: sinugba (grilled liempo) + kinilaw. mmm.
after lunch we went to
Mantigue Island
. we didn't have to worry about the ferry as frank already did all the arrangements. From the shore just beside the the main road, we road a small ferry that brought us to the small island. we were all exhausted to swim, so we just took that quick island visit to appreciate the fresh air, the blue water and the peaceful aura of the island. We just strolled along the shore till we have completely circled the island's perimeter. that's how small mantigue island is!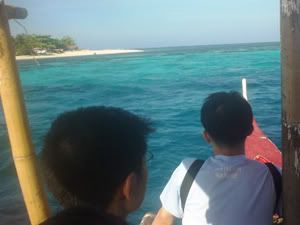 mantigue island
the ferry then brought us back to the main island's shore, where frank was waiting. it was getting dark and cold so he brought us to
Ardent Hot Spring Resort
. we loved the loooonng spring dip, it was really relaxing. the hot water was so right for the night atmosphere.
when it was time to go, it was sooo hard to step out of the water... coz it was freezing cold. we all wished we could stay there the whole night! haha!
after our dinner in
Vjandep
(never ever miss
PASTEL
!!!) we all slept early coz frank told us that we should leave the hotel as early as 5am the following day. he said it's perfect to visit
White Island
before sunrise. and so we did. by sunrise we were already on the ferry, heading for white island. can you believe that? it was earlier than our wake up time back in manila!!!
when we were already near the island, I was mesmerized by how it looked. it's smaller than mantigue island. waaay smaller. it looked as if a truck of sand was just spilled on the ocean, forming a small white island that had nothing. seriously nothing. no mangroves, no trees, no huts! I wonder if this island exists during high tide!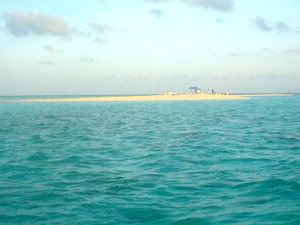 white island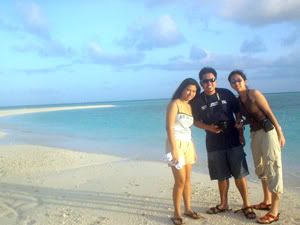 me, alvin & dani @ white island
Back in the main island, we had a quick breakfast at some nearby hotel then we started with the whole day roadtrip. first stop:
Old Volcano Walkway
. pang penitensya, literally. as its uphill path led to stations for the catholics'
way of the cross
. the steps weren't so steep though, so we somehow reached the 4th station, I think. quick exercise. hehe.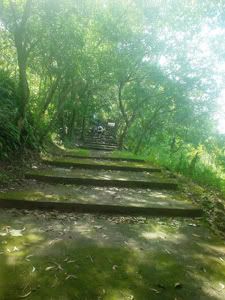 old volcano walkway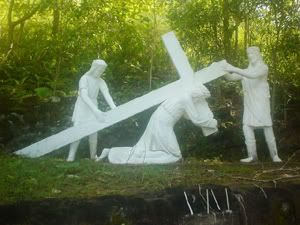 3rd station - Jesus falls for the 1st time
2nd stop:
Sunken Cemetery
. I've seen this in Jomari Yllana and Jelly De Belen's movie,
Ikaw Lang ang Mamahalin
, and so I was really excited to see this for real. As told by the locals there, the sunken cemetery's a REAL cemetery which sunk after a volcanic erruption 137 years ago (1871), putting the whole area under sea level. The big cross that's visible now is just a replica ...the actual one stood even farther from the replica, and of course now submerged under water. Diving in that spot is perhaps a cool experience. sadly, we didn't. di na swak sa time and budget! hehe. I wonder how that old cross looks like now...
As we approached the replica (we rented a boat, for P15 per head) the locals even pointed out some spots which had tombs and crosses but honestly I saw nothing but corals :-| haha. I appreciate the water, it's so clear! the corals beneath could easily be seen! the thought of tombs and crosses and perhaps skeletons beneath those corals freaked me out a bit though. hahaha!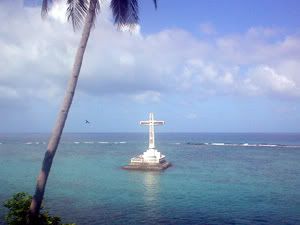 Sunken Cemetery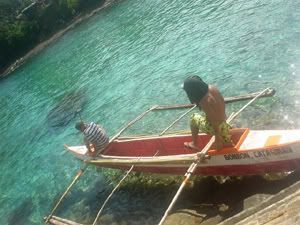 clear water!
3rd stop:
Church Ruins
. This place had the same story... the volcanic erruption in 1871 left nothing except the church's walls. it wasn't so hard to imagine how things were a hundred years ago ...the architecture of the church was like any other old church in the philippines, except that it's empty. we did nothing here but to take pix, especially at its garden where the ocean, seen on top view, is so blue and beautiful.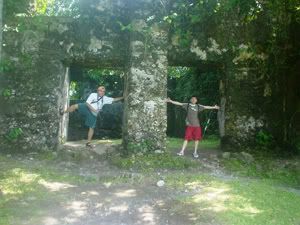 church ruins
4th stop:
Soda Pool
. This is what I liked most, coz here we took a refreshing dip, and because the pool's water is different. it's unexplainably, CARBONATED. from afar, it didn't show but while we were swimming, we noticed plenty, tiny bubbles coming out from where we are moving. It felt like we're swimming in Sprite! no wonder it was called soda pool!
the locals didn't give so much info about it, all they told us was that it's natural soda that
comes from the spring
. amazing isn't it? but no, it didn't taste like sprite. it tasted like ordinary water. haha!
frank was the one who suggested it, none of us knew about that soda pool. see the difference when you ask someone who lives there, and relying solely on the internet? hehe.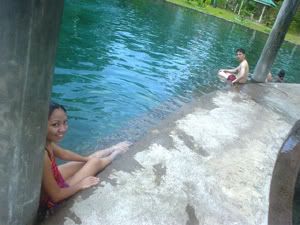 soda pool
5th stop:
Sto Niño Cold Spring
. We just shopped for souvenirs, then of course had lunch, we were all tired and hungry! here you could choose your meat -chicken, pork, beef or fish, and have it cooked as desired. we had sinugba & kinilaw (as always), tinola and coconut juice. I was amazed by how coconuts were chilled. they were immersed in one of the spring outlets! practical eh?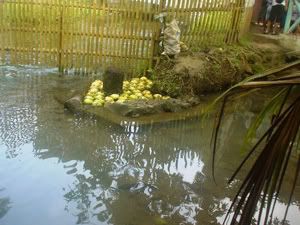 cold spring. natural refrigerator for coconuts.
6th stop:
Green Church
. this isn't really lined up in our itinerary, good thing frank (again) suggested it. it's a
woody
church (catholic church), and I found it really amazing. the chandeliers are made of twigs, the walls are made of bamboos and
sawali
, and the altar's made of carved tree trunk. We took a little more time here to checkout the priests' garments that were used over the years. They're all displayed in their mini museum, just behind the church.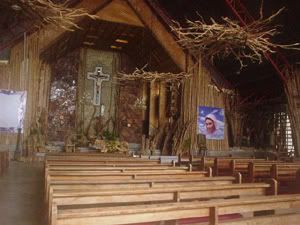 woody ambience of green church
last stop:
Katibawasan Falls
. yet another beautiful falls! the intense sound of water falling from high rocks thrilled me, and so I took a short dip. the water was extremely cold!!!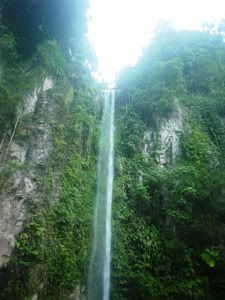 katibawasan falls
that's it. on our 3rd day, we AGAIN left before dawn and headed for cagayan de oro. we all wished we could have stayed longer! 2 whole days seemed enough, but it didn't give us that relaxing sleep which we wanted for a vacation. so, if you're planning to see camiguin, allot 3 days for that. and don't forget to contact frank, he's really good. here's his number: 0920 5405582 (Frank Pojas)