We woke up before 7 to attend the 8am mass at
Saints Peter and Paul parish
, located at Bantayan proper w/c is still 30mins away by trike. I knew it's
420+ years old
so i expected it to look really old. and yeah it was, and it looked even more classic as it's located near the plaza and market ...like most churches here in the phils that are spanish-inspired.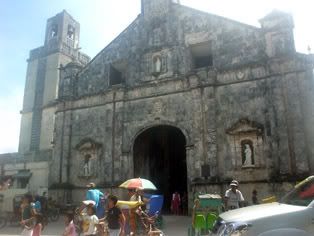 My tummy grumbled the whole time, so after taking pics and all, Blanche and I looked for a place to eat. A candy vendor in the plaza recommended
Jela's restaurant
. we followed her instructions but we didn't find it, so we entered a small eskenita instead. by gut feel, we knew we'd find a place to eat. surprisingly, there was Jela's resto. and it's more than a canteen! it's actually a
lechonan
! there we had our breakfast, slash CHEAPEST MEAL we had in bantayan. a plate of lechon costs 70 and the fruit shakes are just P10 each!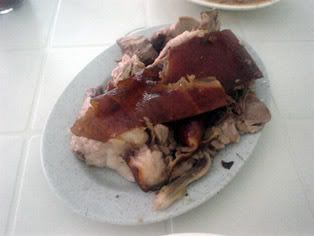 After breakfast, we roamed around the market to check out what we could munch back in the hotel (takaw e hehe). we bought avocados for P25 per kilo (
2 pieces cost P20 lang!
), and 3 corn on cobs for just P10! apparently, everything in bantayan proper's so cheap! not like in Sta. Fe ...palibhasa madami foreigner!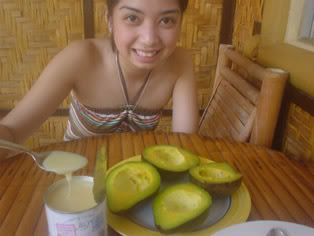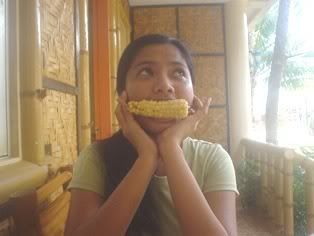 After a short rest, we went to
Ogtong Cave beach resort
. I used to think that ogtong's a cave that's open to all. it turns out that ogtong is the name of the whole resort, which has a natural cave that is unaccessible unless you pay for the entrance fee. hehe odd huh?
Anyway, the cave's different. I mean it's not like those that are stinky and full of bats. It's also not like those in Sagada where you'd hike half of the time. ogtong cave has a natural pool that's great for short dips. blanche and I actually just chatted inside the cave till we realized that it's about time to get a tan. hehee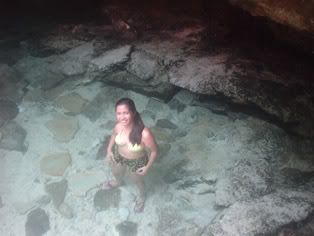 So there, we went to ogtong's beach to get a tan. I luuuv this beach so much, the water's not deep unless you go hundreds of meters away of course. hehe. the sand's so fine, Blanche and I actually enjoyed scrubbing our backs and arms. mwehehehe. then we lied on the sand the whole afternoon to get a tan. woopee!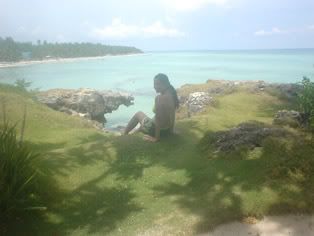 The last night was the best ...we had another buffet dinner. this time it's at
Marisqueura o' Portuguese
, just across D' Jungle. There's less variety BUT OMG the
clams and oysters
are so abundant! we ate lots of oysters ...we ate a lot that we had to transfer to another table because the piled up shells won't let us see each other's plates anymore! hehehe. after dinner, we sang all night to burn all the food. then we tried a massage place nearby. the 1hr full body massage was really great, it gave us a good night sleep :)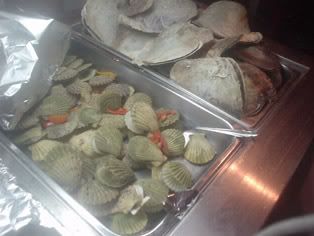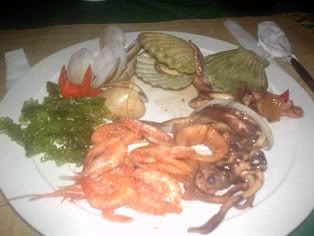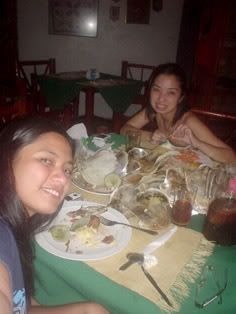 3rd day was our last day, it was time to leave. At the port of Bantayan I felt really sad that my vacation's over. At the same time I felt so giddy having another destination checked on my checklist. And that destination had everything I wanted in a not so commercialized phil island --perfect beach, healthy food (err, except the lechon), great culture and really kind people. going to Bantayan's a must folks. Include it in your beach list.
MAJOR EXPENSES

Bus from Cebu city to San Remigio 88
(North Cebu Bus Terminal)

Ferry from San Remigio to Sta. Fe Bantayan 135
(Hagnaya wharf)

Yoonik Resort 2500
(1200 per night plus tip :) service is good)

Ogtong Cave entrance fee 100

D' Jungle/ Marisqueira Buffets 195 each
vidoeke's P5 per song. haha

Full body massage 180
can't remember the place, ask trisikad drivers

trisikad/tricycle rides 200 total

Danggit 70 per pack
danggits are cheaper here!