(cross-posted from my LJ)

I spent my weekend at The Farm with my family. For those who aren't familiar with the place: The Farm's a resort somewhere in Lipa that's actually more of a meditation/relaxation place 4 stressed ppl. later u'll know why :D yep it was just what i needed.

when we arrived there in the afternoon, the first thing i tried was their yoga class. as if solemn time! there were only 5 of us in the room yet i can't hear any kind of noise. n so i had a hard time blowing my nose time 2 time. hehe.. i had running nose! as i've expected, the whole session made me so sweaty even if movements were slow and positions weren't that hard. well that's yoga is all abt anyway. hehe. the latter part of my yoga class made me feel so sleepy since we were lying on the mat n d instructor said that we must relax n clear our minds. good thing before i was abt to fall asleep completely, the session ended :D feel na feel ko tlga! the temperature inside the room was just right... while outside you'd see dried leaves being blown by the strong wind. o ha.. mala movie ang dating!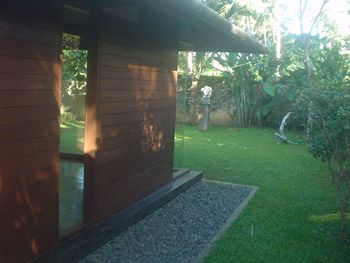 spot where we had yoga

anyway, i spent the rest of the afternoon strolling around with my sister (and with barbara --- the hs friend of my sister who went with us btw) i swear the place's so beautiful. dey've got peacocks, swans n ducks on their ponds.... and the landscape's so fine. i mean parang OC-made. haha.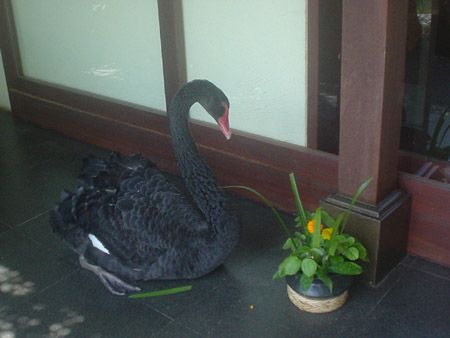 fake or real!?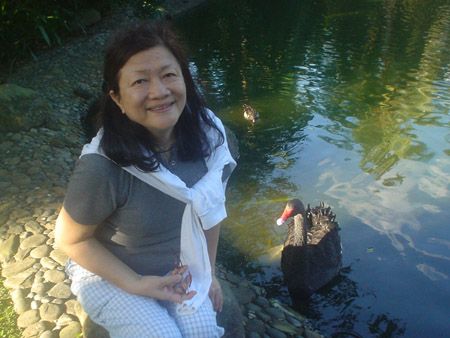 real! kitams, nagpacute pa nga ang nognog swan beside my mom! hehe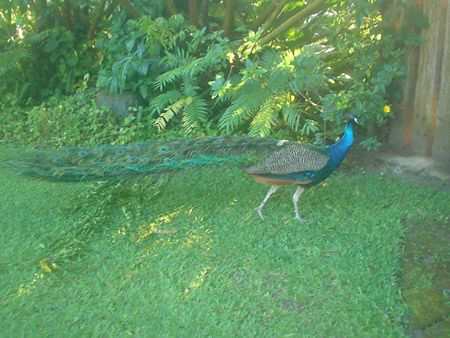 i love this -- their blue green peacock :D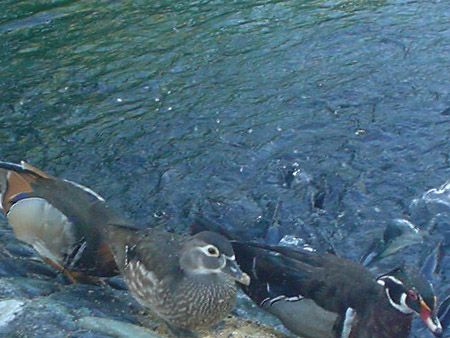 i love this pic! coz accidentally i clicked
'set as desktop background'... nagulat ako bigla may ducks
sa wallpaper ko! hehe cute...

the only thing i didn't like there is the mood when it gets dark -- the place's so quiet and no one seems to go out of their cottages. BORING! that's when u'll realize that the place's perfect only for 100% depressed ppl. hehe... 90% depressed lang ako e :D n so i found the night time boring..

..so i went with my sis n bro in law in their joyride. besides, the kids dusnt like the food there (menu's only for vegetarians! plus mahaaaaal ng food!). we left mama n papa at The Farm while we ended up in a bulaluhan somewhere in the city proper. kaka-high, when again i saw bright lights and ppl! haha, nastress ata ako sa The Farm for not seeing ppl around. haha jk

after dinner, we went back to The Farm and watched tv at the oriental lounge. yep, der's no tv inside the cottages kc nga diba d place's supposedly for those who needs to be at peace! some foreigner guests were at the lounge too... so nakisabit nalang kami sa dvds nila. We watch Shopgirl (claire danes) -- isang pagkapanget panget na pelikula!!! good thing there was another day for me at The Farm... kundi, sobrang cursed ung resort na un. haha

The next day, i strolled around again. there i saw more of their "secret gardens", gazebos and pools. supposedly i'll jog around (that's why i wore rubber shoes!) but then i was so mesmerized to do that. haha... so just walked around. then i tried their buffet breakfast -- healthy foods nga coz they served home made breads, granolas, fruits and the like. hmm... mejo nafrustrate ngalang ako coz i'm used to heavy breakfasts. and actually i expected salads... different kinds of salads... when they said that the food was healthy. owell, ok lang though... coz healthy nga naman. and besides i had my cup of hot tea -- which went perfectly with their home made bread with cashew-cheese spread and pesto. solved nako. haha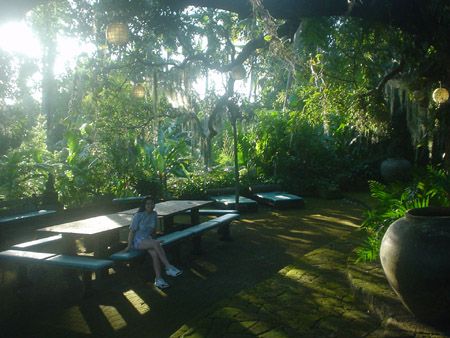 one of their areas for meditation... perfect during sunrise!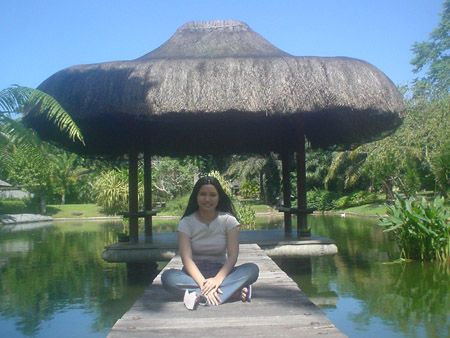 ok supposedly i was in a yoga position. but i looked stupid. haha :D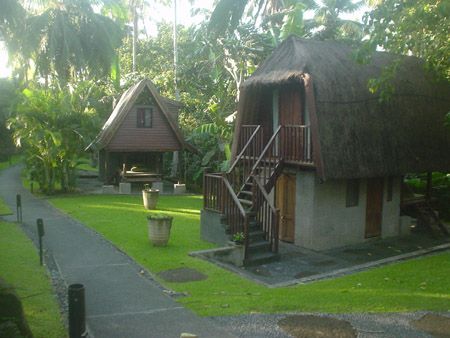 sulu cottages. unfortunately, this isn't our cottage -- ours was
lower, and its top was made of anahaw :) these cottages on the pic
are a lot better. buhuhu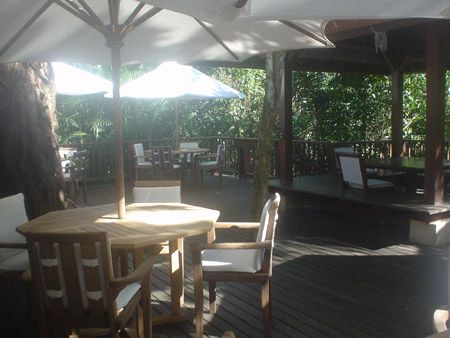 our breakfast table. mmmm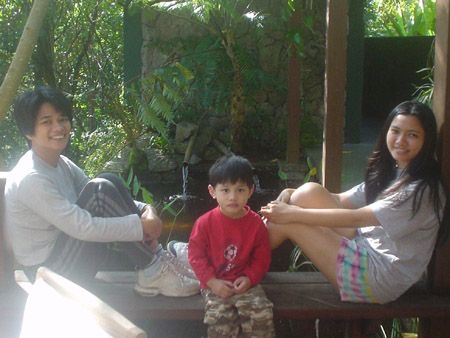 ala lang, pacute lang. mwahaha!


after breakfast... SWIMMING NAMAN!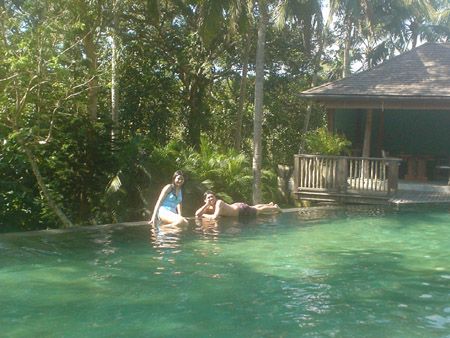 "bading" pose of kuya albert (my bro in law) hahaha!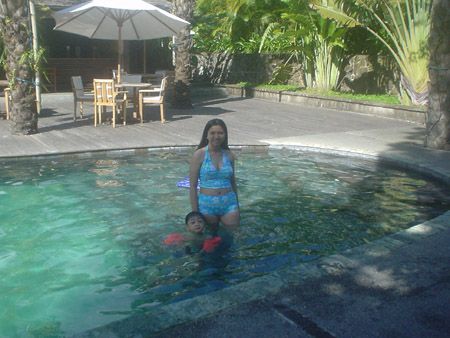 introducing bb pilipinas contestant number negative 45!

the best part was when i tried moxa ventoza (2nd pic). at first i was hesitant, knowing that it was P1400. hehe, good experience though. i really felt that i was relaxed. naidlip nga ata ako during the back massage that was included in that service. hehe saraaaaaaaaaaaaaaaaaaap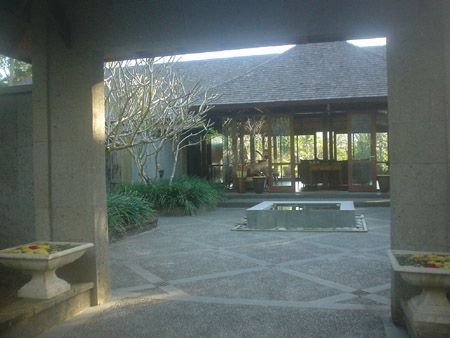 the SPA (which meant salus per aqua. aba may bago pala akong natutunan dun! hehe)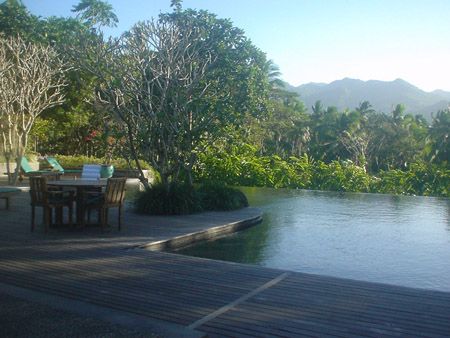 the north pool. a lot better than the one i showed a while ago.
ey! this is where i had my moxa ventoza! o ha feel na feel ko tlga nature! hehe

now i feel so recharged. apparently i just needed time to see something else. haha. to my sister, who covered most of the expenses, THANKS! honestly i'd have 2nd thoughts of goin there if i had to spend my own money for everything. haha promise, i'll pay for that moxa ventoza!