Puerto Galera
's perhaps the best way to party without spending much. everything's cheap --water activities, food, massage, tattoo, hotel rates and transportation. and it's got the right mood for party animals on a saturday night. as they say, if you can't afford bora, then go to galera!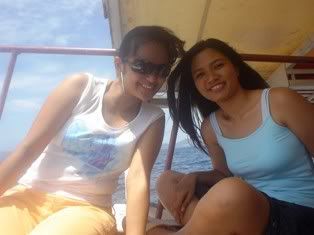 lara and me sa batangas-to-galera ferry
[basang basa!]
we stayed at White Beach Resort of White Beach, Puerto Galera [It's hilarious how this resort got a
soooo unique
name. Isn't it like putting up an italian restaurant named
Italian resto
or sumthng. haha]. Don't expect this, or any other hotel in the place to be at the high-end. They're all just right for sleeping and taking a bath [and sometimes for watching TV]
It wasn't so hot on our first day. It was in fact, cloudy. which was really unfortunate for us. but somehow we enjoyed wading. What's good in this too commercialized beach is that the water's still clean. no zestos or plastic spoons on the sand. you know what I mean?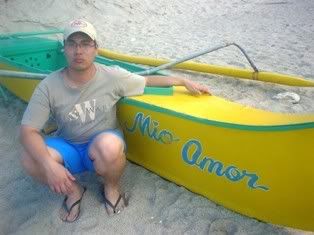 mio beside mio amor boat. hehe



tisha, me and jay at White Beach's shore
[but the sand's not white! hmmmph]
At night we had henna tattoos done (me on the wrist, jay on the neck, tisha and lara on their backs), we ate hotdogs at
ihaw-ihaw stands
then we drank, danced and raved!!! we shared over a bottle of Absolut raspberry which made us soooo drunk! bad bad vodka! I'll never try that again! haha *but ooh that was fun!*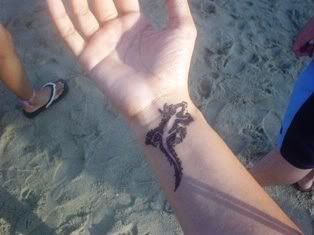 my butiki henna tattoo!
the next morning, we snorkeled! :) If you've been to palawan, you'd be disappointed with what you'll see. but if you haven't tried snorkeling before, then I can say that mindoro's competitive enough. coz they've got neon-colored fishes and lots of blue starfishes! and they interact even better coz they gobble every bit of bread crumb you have!
We had breakfast on the boat --peanut butter sandwich. it was perhaps the cheapest meal we had! we ate what's left from our fish feeding activity! haha poor us. but that was fun. it was also the most pleasing meal after tiring ourselves during snorkeling. Thanks to carla who sponsored the crunchy peanut butter. yumyum!

me, elaine and lara after snorkeling
We then stopped on a quite-secluded island. this one I loved most! the water's clear and the sand's [though quite rocky] almost white THUS it's so perfect for photos! mwehehehe :D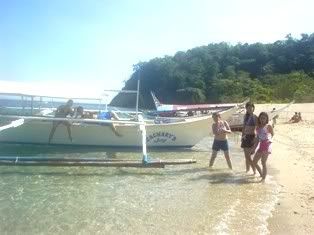 "camwhores by the shore" hihi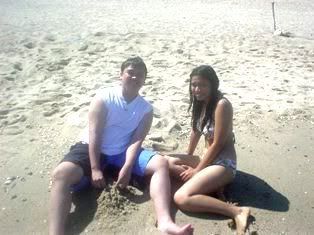 c paul maputi pa pero ako nognog na!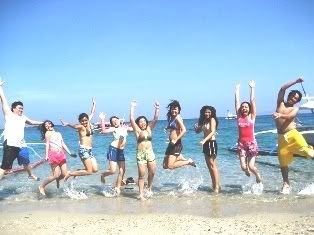 group pic w/o mio. sorry mio kaw ang cameraman eh :P
hmmmph ndi ako naka jump sa pic! *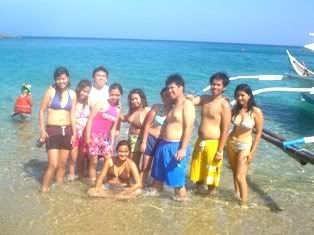 finally a group pic, and we're complete!
in correct order: elaine, jemma, paul, ana, lara, carla,
tisha, mio, jay n me!
At noon we went to Aninuan falls. we had to hike going there and hike even longer after our short dip. I loved that though, as much as I loved the Bomod-ok hike in sagada. I just love being so sweaty!!! --makes me feel like I'm becoming slimmer and slimmer! [hahaha it's a psychological thingy] but of course, don't expect breathtaking views or studio-like falls. iba pa ring ang sagada, di ko ipagpapalit!

elaine n me @ aninuan falls *
At night we dined at Dream Wave. hay, real food finally! [we've been eating canned goods to save money!] Thanks to Elaine! [Oh and happy birthday!] After dinner, we tried the massage along the shore. my masseuse was so good, I felt like my legs were relaxed finally after the long hike! no more drinking this time. just a loooong sleep after the relaxing massage. mmm. hehe :D
3rd day - shopping! [while the rest rode the banana boat] Shirts, sandos and shorts are so cheap, makes me want to buy EVERY item. but of course since I'm on tight budgeting I just ended up with 1 spag strap for myself, a shirt for my dad, a bracelet for my mom, and 2 sandos for my 2 friends back in manila. not bad though, coz originally I had no plan to shop. It was a nice surprise that some more money's left for that. Apparently everything in Galera's cheaper than what I thought!
Now can I RANT?
Batangas Pier has the most infuriating pasalubong vendors and ticket fixers! upon reaching the port, we were welcomed by "persuading", irritating group of men to buy their products (vendors) or to ride on their boats (fixers) like an orchestra. I mean, sabay sabay: "mam russel john?" "mam commando ferry?" "mam m/v brian" "mam macapuno?". even while Mio was on the phone! their heads just kept on popping out one after the other, asking him the same questions FACE to FACE! Ignoring them [or acting like a bitch --I mean parinig ka ng "f*ck ang kukulit nyo!"] had no effect, some even kept on touching our elbows to get our attention. ffff*dge malalagkit sila I swear.
In white beach puerto galera itself, the business continues. apparently it's the trend huh. a whole new orchestra welcomed us! [milder orchestra in fairness] "mam banana boat?" "mam massage?" "mam braid?" again, ignoring them had no effect, in fact I think they asked the same questions for like every 10 mins. imagine. same person. same line. goodness!
In batangas pier, on our way home, the scenes where the same. WORSE actually. the infuriating vendors followed us up to the bus station saying their famous lines "mam macapuno sige na" "mam mineral water para sa byahe" over and over EVEN IF SOME OF US WERE ALREADY BUYING. ugh.
talagang makulit o sadyang sabik sa pera? so guys, when going to galera via the batangas pier (is there an alternative way in the first place?!) HEIGHTEN UP YOUR E.Q.s!
(*) - from Mio's cam. Thanks Mio!
Expenses! Expenses!
Groceries (century tuna, sunblock, etc): P500++
Alabang-Batangas shuttle: P100
Batangas-White Beach (M/V Brian): P180
Hotel (2500 per night good for 5): P1000
Henna Tattoo: P100
Snorkeling + Island Hopping: P250
Aninuan Falls tour/hike: P120
Food trip (hotdogs + shakes): 100++
Full body massage (1 hr): P200
Pasalubong shirts (around P100 each): P400--
Pasalubong bracelet: P80
Food (average 70 per meal. paluto delata - P20 per can): P210++
White Beach-Batangas (Russel Jhon): P180
Batangas-Alabang bus: P120
Misc (jeep, trike, etc): P100++
Total: P3640++