My college friends n I spent the Independence weekend at Boracay [ZACS + Jay + Luis]. IT WAS MY FIRST BORA EXPERIENCE, can you believe that??! yeah oo na, it's a little odd for someone who loves scouting for phil places. sorry, I'm not a party person okay! I was never attracted to Bora before coz for me, it's just "white sand plus Greenbelt 3"! [bora buffs, sorry if I've offended you. hehe]
1st day
was travel day, so nothing much abt it could be shared. ah except for our sumptuous dinner in Aria which took away my P400 instantly. really, it was a bad start for a vacation. haha! for our
2nd day
we did the usual stuff --enjoyed bora's fine white sand, had henna tattoos done (sila lang actually hehe), tried jonah's shakes, and strolled a lot since we stayed at the end of station 2 (almost station 1).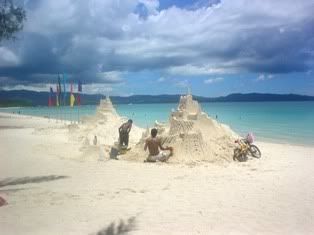 humongous sand castles
a cool business in bora!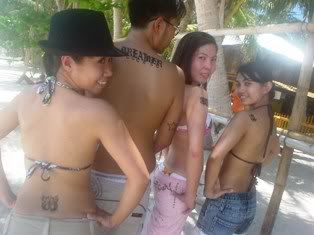 Bianx, Jay, Mela and Abby
showing their henna tattoos!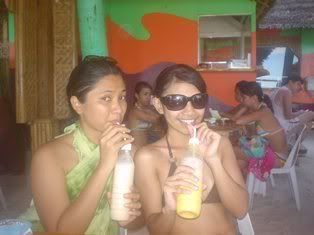 Jonah's shakes!
[yeah i look weird here]
oh, we didn't skip the sunday mass! Ü after the mass, we watched the sunset, enjoyed the spectacle as bora mutated at dusk... hotels and restos started to set their tables outdoors, music became louder and ppl started to rave. and we did too as we spent the rest of the night in Cocomangas. ah well actually i just sat the whole time as i watched them dance. sorry kj hahaa. it's so not leda!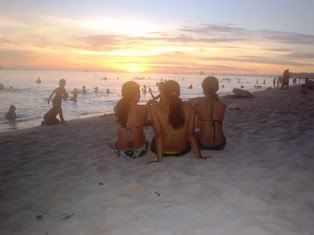 Bianx, me and Abby watching sunset
3rd day
was a monday, so half of the crowd already left. it was a perfect day to swim, the shore was oooours the whole morning. mwehehe.
Then at noon we went to
Butterfly Farm
[Fairways and Bluewaters]. Don't expect too much, there are no overwhelmingly big and colorful butterflies. just butterflies --those that you see in your own backyard. there's something else though. they have 2 bats, one could be hung on your own finger. that was so cool, it was my first time to see a bat upclose!
After the butterfy farm visit, we
parasailed
... just on time for us to catch the beautiful sunset. heaven. Ü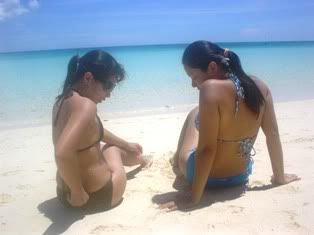 Bianx n me enjoying the fine sand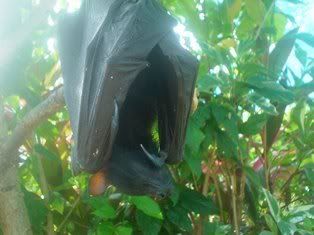 a bat! a bat!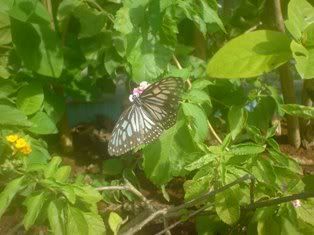 butterfly Ü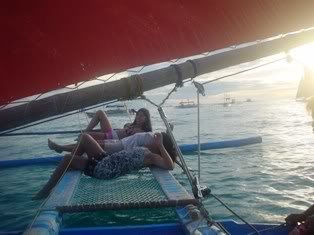 parasailing!
4th day
was island hopping day! we first stopped at
Crystal Cove Island
to check out the "crystal caves". I love the blue water surrounding the island. PHOTO OP. and the waves hitting the crystal caves' rocks (though a little scary) they're so beautiful!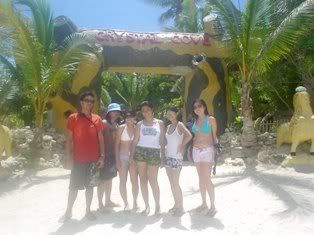 d whole group at crystal cove island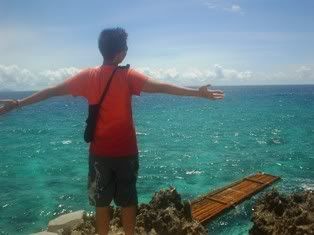 "freeedom!!!"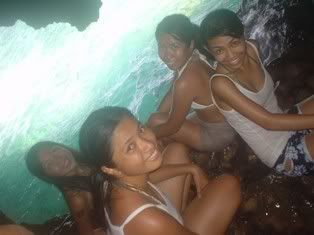 d morenas. yeah that includes you mela :P
then we stopped at
Crocodile Island
to SNORKEL! again, if you've been to palawan, don't expect much. I mean, yes there'll be beautiful fishes but the corals, they're all dead. or if not, dull. and there are no national-geographic-like circling schools. just fishes, and a few starfishes. not bad though, coz we had the chance to feed them. they loved every crumb! that was fun!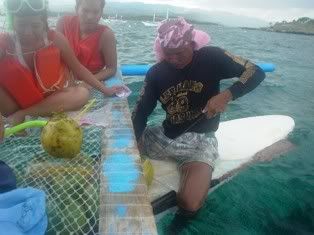 selling coconuts in d middle of the sea :O
Just before lunch, rain poured heavily. we were cast away ...in the middle of the sea where everything was literally gray! and the raindrops, ghrr, they felt like mongo seeds being thrown on my back. it went on like that for about 40 minutes! it was already becoming depressing, coz we were already tired from caving and strolling and snorkeling when we finally reached the other side of the island to have lunch. whew. so, the food that we ordered ...grilled squid and buttered shrimp ...it was, OMG ...bliss!!! haha!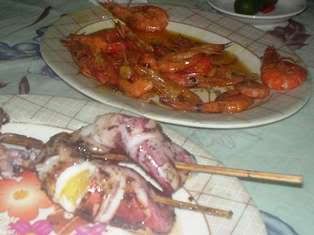 squid n shrimps! mmm...
we spent the last night in
True Food Indian Cuisine
. the food was great, it's infact one of the best dinners I had in bora. oh, try their shakes with yoghurt (lassie or lasie? I can't remember. hehe). I loved it!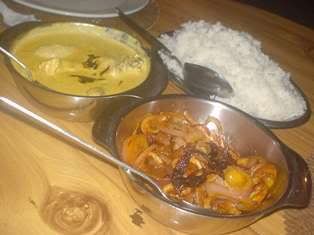 chicken curry and spicy squid.
i forgot the dishes' exact names haha!
indian cuisine... yummm!!!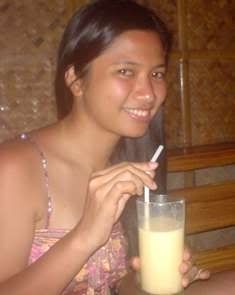 mango lassie.
n yeah, i'm showing off my tan line. hee Ü

5th day
was our travel day. back to Manila na. how sad!!! :( well what can I say. hmm. After that 5-day bora getaway, my bora-impression remained, but with a little plus plus. coz aside from swimming, wading, sunbathing and partying, we had the chance to do something else, not bad for me!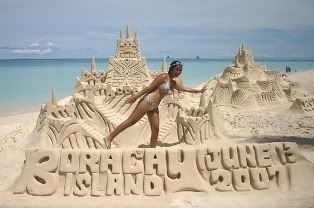 "i can swim!" [huling hirit swimming on the 5th day,
yah oo na ndi pantay ang tan ko haha]
thanks mela for this pic Ü
I warn you, money flies quickly in bora. don't be surprised if a day takes up your yellow OR BLUE bill instantly! but... one thing I realized in Bora, at times when you need a break... splurging isn't bad after all. mwehehe
EXPENSES ...that I could remember. hehe (per head rates):

Cebu Pacific round trip tix 2600++
(1-way is piso flight)

La Carmela de Boracay 2400
(room good for 4 - P1800 per night. we got 2 rooms)

Round trip Kalibo-Caticlan-Boracay transfers 700
(c/o La Carmela de Boracay)

Parasailing 150

Island hopping 300

Butterfly Farm 60

trike 10/ride
(six kami nakasakay lagi)

Food 60-500
depends on which resto! hehee