Visit Kansilad - a hidden paradise in Lianga, Surigao del Sur. The beach is comparable to the best beaches that you know except that it is less advertised. thus it's less dense. Actually when we were there, I dont remember seeing other guests!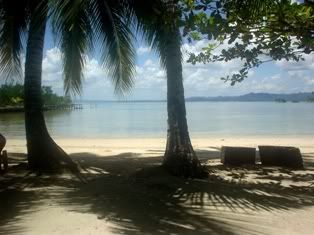 The beach.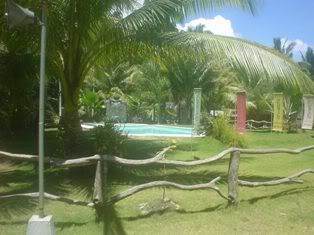 The pool.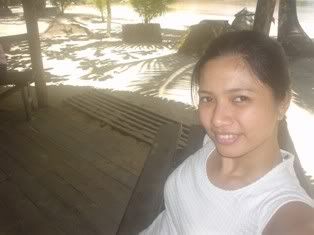 at the gazebo. really, I love the sand!
So how did I reach this place? When my mom and dad were on a roadtrip going to tandag via butuan, they rested at kansilad "just to have coffee" as recommended by their kapwa tandaganon. They were stunned by the sosy ambience, since it stood in a not-so-populated town, or in a quite inaccessible spot for most beach buffs.
My mom loved the stopover, and just cant get over it. So when my cousins, my uncle and I (and a nephew) left Tandag for Manila (via davao), we stopped at the same resort as recommended. Besides, Lianga's still along the way even if youre going to Davao. So there! We enjoyed the same ambience, but the experience's much better when uncle paul ordered sizzling seafoods and tinola for our lunch (native chicken. take note!) mmm.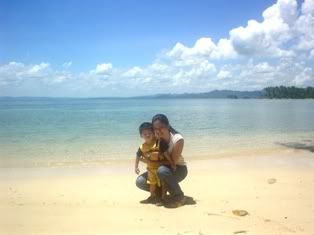 me with nephew, vien.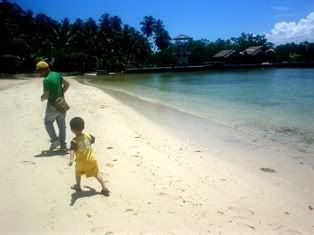 vien running after uncle paul. how cute :)
After lunch a guy toured us around (I think he's the manager or owner. hehe I'm not sure). The rooms were great, very relaxing so close to nature literally. I think I could just jump off the window if I want to swim! hehe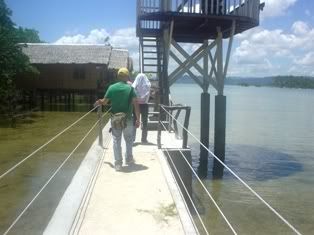 the cottages
Surprisingly the room rates are very cheap. Well at least that room the guy showed us. it's classy, it has its own clean bathroom (that's what matters most to me!), it's good for four and
it's just 1500 per night
! Thats it. I'm convinced enough that I should go back there to spend a night or two. The place is too perfect as a stopover place!
At around 2pm we had to leave since I have a davao-manila flight to catch. the short stay was worthwhile. My only rant is that I wasn't able to swim.
Lesson learned:
Always have an emergency bikini in your hand-carry luggage! :)