There were things I prepared for before going to Sagada, and one of them is
Bomod-ok falls
. Mainly because this was a major challenge for me last year, when my endurance was really, stretched to the limits!
We started the hike before lunch at
Aguid
. According to Kuya Perin [tour guide] the path here's longer but less steep [compared to Fidelisan].While Cie and Janet liked the idea, honestly I got a little frustrated.
How would I know if I'm buffed this time if we'll take the easier way?
[haha just a selfish thought!]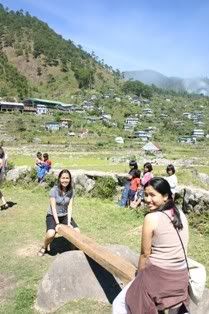 improvised seesaw of igorot kids. cool noh?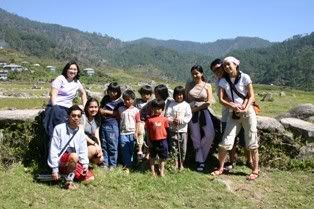 the whole group with some igorot kids.
amazing, they all look the same! hehe
So there, we hiked downhill for like an hour [prepare for sunburnnnn!]. The sceneries are extra breath taking, the rice terraces are greener, and I've got more beautiful photos. thus I now love this
Aguid path
! muhaha. Thanks to Wewoy for tolerating camwhores like me [every 10 minutes, merong "wewoy wewoy picturan moko dito!" at siya naman, kuha ng kuha!]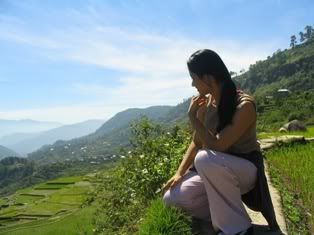 a perfect candid-but-not-really-candid shot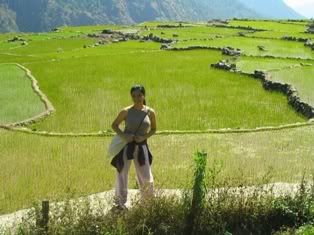 ..and another perfect shot of me on some rice terrace :)
Most of the pathways are easy to take, as they're already cemented. But the rocky path near the river is still as dangerous [but that was fun of course. fulfillment eh!] The sound of the strong current flowing from the mountain, even without seeing it, is still as thrilling. And as expected, the big falls itself was so rewarding. There's still the big "WOW!" even if I've already seen it before!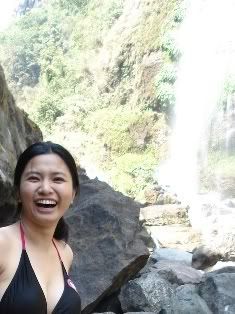 a real candid pic of me with bomod-ok as my background :)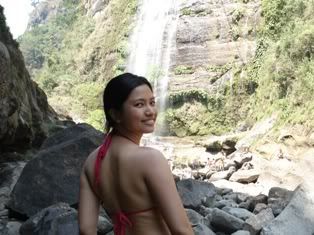 walang pakealamanan.
this is my dream sagada bikini pose!
Literally, the water's cold like ICE. *salute* to some ST boys who dived here last year! but ey, I didn't give up! dani and I were able to swim, 20 minutes after dipping our feet. haha! [kada 5 minutes, lubog ng 3 inches!] the extreme "brrr" moment was when the water's already chest-level. it made me feel so numb!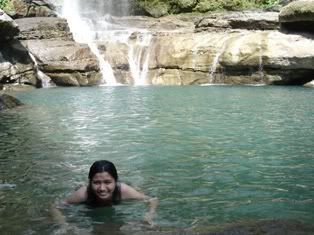 "brrr!" ST girls, BEAT THAT!



somewhere below the big rocks. nice background diba?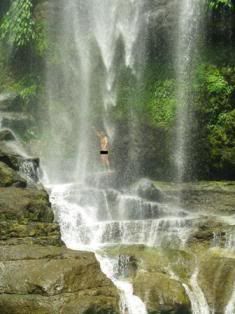 and PRESENTING...
Sagada Scandal by Alvin Galang. wohoo!
It was already late for lunch [we made reservations at the bamboo grill] so we decided to end the Bomod-ok trip. Of course, the hiking adventure's not yet finished! We had to hike uphill going back, which is even harder than the trek downhill! Like climbing the stairs for more than an hour! As I always say, it's like "stairs going to the office [43rd floor]" but according to kuya perin, "hindi lang! mga 100 floors yan!"
so we hiked uphill, passing through all levels of rice terraces, resting at every shed we see (3 stops yata). when we were already halfway, I heard my stomach grumbling. I realized that I wasn't 100% prepared --I should have brought a sandwich, or at least a chocolate bar! but anyway wna know the overall result? I got no flu, no muscle pain, and I felt like I can take another bomod-ok hike! [well not really. maybe just the half of it? haha] I was only extremely HUNGRY. thanks to cardio exercises!
that was our final site, which was a very good sagada trip ender. I was able to swim and I survived the hike going back --what could be more fulfilling? But then again, as I always say, pictures nor blog posts can't describe the beauty of bomod-ok falls. Or the rewarding feeling once you survive the hike. You have to try it yourself. so guys, explore this WHILE YOU ARE YOUNG! Oh and Don't forget to put this at the end of your Sagada site list. coz this is seriously energy-draining. explore bokong falls first as your warm up!
Don't forget to bring sunblock :-|