I've heard lots of stories about Palawan before, and lots of pictures that may me DROOL. since then, I've always wanted to see Palawan. natupad din sa wakas! :)
But I've gone only to Puerto Princesa. I feel quite bad that I didn't stay longer. low budget kasi :O [Dec 16's the start of hotel and air fare peak rates. hihi] and some of us were under tight 'vacation leave' budgeting. Imagine, just 2 whole days in palawan. bitin talaga. SO... I'm definitely going back! For now, what I can share is our short stay in Puerto Princesa...
First day: we arrived at Puerto Princesa before lunch, checked in at The Legend Hotel, settled down, then had a sumptuous lunch at the hotel's resto [the kinilaw was good. quite sinful though, coz it had grilled liempo! hehe. but mmmm I loved that] Then a hotel shuttle picked us up for our first activity: ISLAND HOPPING!
We visited
Snake Island
and
Pandan Island
. I was speechless. these two islands have two different things to brag about...
Snake Island is perfect for snorkeling. fishes there are like those you see in National Geographic channel. they come in all colors and sizes. some come in circling schools, and made me wish so much that I have an underwater cam!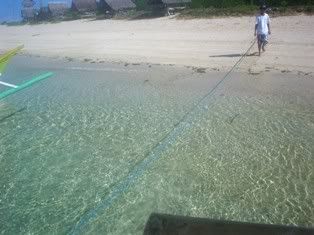 oohlala how clear!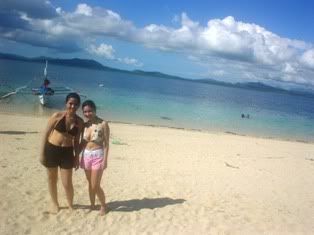 "wear 'em you're young!"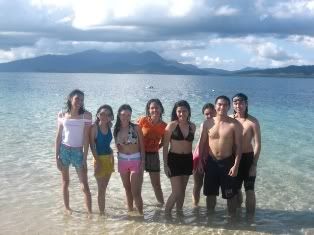 "one two three, altogether... STOMACH IN!" *

Pandan Island is perfect for swimming [or just for wading if the tide's low] coz the sand's clear -almost white, and there are no shells or rocks to poke your toes! and the water level's just right even if you're already meters away from the shore. nice diba!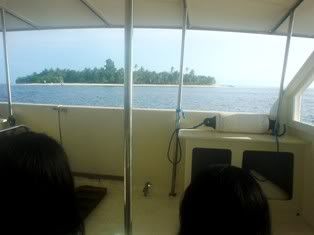 approaching Pandan Island...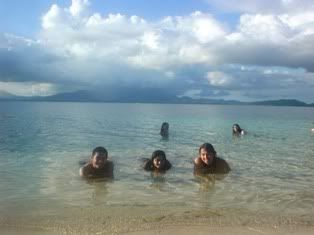 feeling mermaids ba? hehe
At night, we had dinner at
Kalui
. I love the resto's ambience! Native decors were everywhere, then in one corner you'd see fruits neatly displayed. The RED bananas makes the whole spot more attractive. cool ha. OH and you have to remove your footwear here. 'ancient pinoy' talaga ang dating! and the food [seafoods! mmm!] it's so good. mas pinasarap pa kase libre. haha jk! thanks Paul!
Paul then gave us a quick city tour. since it was christmas season, he brought us to the "baywalk" counterpart of Puerto Princesa, where a gigantic christmas tree stood. Currently daw it's the 2nd tallest chrismas tree in asia. wow ha, astig!
2nd day:
Underground River tour!
a hotel shuttle again picked us up, then from the hotel we passed through rough roads. rough roads. and really rough roads. haha! [if you'll go on this tour, make sure you had enough sleep. mahirap paglabanin ang antok ang lubak, pramis!] after about 2.5 hrs we arrived in a rural town where boats are waiting. only 6 ppl can fit so we had to split up. The boats brought us to a different island [I'm not sure actually if it's a different island!]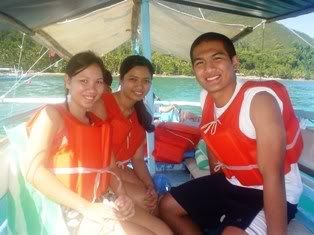 In one boat - mia, me and deryk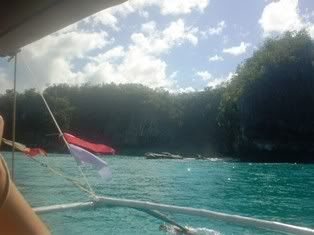 "uhmmm manong tour guide, can we stop
for a while so I could swim?" hehe
in that island, we followed a trail that leads to the underground river [watchout!
Bayawak
s are everywhere!] we waited for a while since there were lots of tour groups aside from us, and the boats going inside the cave are limited.
Then it was our turn. yahoooo, the cave smelled so awful (and our helmets and our vests! hehe) but the experience inside is quite unique. stalactite/stalagmite formations are so cool [some are creepy]. The cave has a "market" section where there are veggie formations, and "cathedral" section where there are "Jesus", "Holy Family" formations, and the like stood. and then, that's it. I remember someone said before that I shouldn't expect much from this cave. haha he's right. but hey, this place's photogenic! pwede na rin!

the whole group @ the underground river *
On our way back to the hotel, we passed by the Vietnamese village. For me, there's nothing much to see. Or perhaps we're too tired to explore further. All we wanted that time was to rest and to have a good long bath back at the hotel!
For dinner, we ate at
Balinsasayaw
. The ambience's just fine (if you've gone to Kalui, you'd think that Balinsasayaw is not extraordinary) but the food is as good, their chicken reminds me of bacolod chicken being served in some manila restos. their "grill platter" is a must --filled with grilled seafoods, served in really nice presentation. oh and their fruit shakes! mmm they're the best. again, it was Paul's treat :)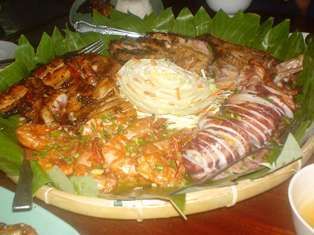 more of grilled seafoods. mmmm!
3rd day: we had to pack our bags, for our 10am flight back to manila. how sad! but I'm glad Bev, Marcy and I were able to roam around the city early in the morning. thanks to manong manilenyo taxicle driver who helped us pick the freshest seafoods in puerto's wet market. For
P800
I was able to buy 1 kilo of first class prawns, 1++ kilo of blue marlin, 1++ kilo of tangigue, and a big plastic bag containing typical pasalubongs like roasted cashew, cashew brittle and spicy dilis. I can't remember how plenty they were! all seafoods I bought were fresh, and packed neatly at the market's packaging booth --customized for those who will go on air travel: naka-styro cooler, or brown box with ice bags inside. your pick! cool diba? tourism's apparently being promoted even in their wet market! hehe
Manong manilenyo (I forgot his name) told me that next time we should wake up earlier. like around 5 am. coz by 6am, the best seafoods have already been picked. whoah, we thought we're already early! (we left the hotel at 6am). but to my surprise the seafoods were still good. hmmm, napagpilian na pala yun sa lagay na un!??
that was the end of our Palawan escapade. sad in a way, kase bitin. but I can say that it was a blast --after pondering on the ratio: of the amount I spent, to the length of time I spent there, to the satisfaction I had!
Palawan is as good as it sounds. so, I MUST go back. for Coron or El Nido perhaps? hmmm we'll see! :D btw Thanks Paul Lao for sponsoring our dinners, thanks so much for the hospitality! :)
(*) - pics from Tasj's cam. Thanks tasjy!
Expenses! Expenses!

Round Trip Air Fare: P2600
cebu pacific's P99 seat promo

Accomodation: P3000
Barkadahan Package of The Legend Hotel.
Applicable to groups w/ minimum of 5 guests,
rate might be higher during peak seasons

Includes:
* Honda Bay tour
* pack lunch for Island hopping
* breakfasts
* welcome drink

Underground River Tour: P1300
add-on to the package. includes packed lunch.

3 Shirts: P360
2 for myself, one for my dad

Pearl Accessories: P500
1 pair of Class A pearl earrings for myself,
5 pairs of class C pearl earrings for my officemates,
1 pink pearl necklace and bracelet terno for my mom.
YES, PEARLS ARE CHEAP IN PALAWAN

Food Pasalubongs: P800
Pasalubong sa house - prawns, blue marlin and tangigue
Pasalubong sa office - cashew brittle and spicy dilis

TOTAL: P8560